Fidecco is currently one of the market's top distributor and installer for Automatic Entrance Systems in Malaysia.
Our 6 main products are:-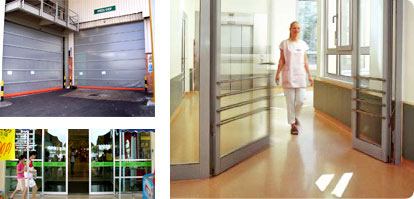 PVC Rapid Roll Door
Automatic Sliding and Swing Door System
Revolving and Hermetic Door System
Self-close Sliding Door System
Automatic Door Accessories with distinctive features
PVC Strip Curtain with Stainless Steel Hook-up Hanging System
Our diversified range of products has contributed to many our customer's satisfaction especially when they are in need for automatic entrance solutions. We offer products and services which are of well-known brands in the market. On top of that, we also study, design & propose the most suitable solution for our valuable customers. Through our high & medium range products and our experienced technical team, we are able to provide customers with alternative choices and solutions which are more suitable to their environment and budget, without compromising on its qualities.
Through our commitment to excellent after-sales service practice, we are able to expand our growing market share in the manufacturing, hospitals, universities, restaurants, pharmaceuticals, warehouses, shopping malls, and many other commercial and industrial buildings. We have a successful record with numerous prestigious projects in many multinational and local customers who had trusted our capability in providing entrance system solutions which has increased their operation productivity and sales revenue.
The brands which FIDECCO distributing enjoys exceptional global reputation for, in particularly, excellent final result after using these quality products. Our main approach is to work closely with architect, consultant, facilities & production engineer, aluminium & glass contractor, piping contractor and most importantly, the end-user, in order to form a productive, modern and cost-effective solution.